For more information on this policy please contact
Committee for Sydney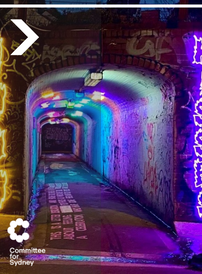 Everyday Culture
Sydney loves a street festival, an outdoor party or performance. Our weather encourages us to live as much as we can outdoors, yet the bulk of our cultural presentations are held indoors.
This is mostly due to the fact that our city is simply not set up to host regular outdoor activity. Without permanent base-line infrastructure, the added expense and regulatory frameworks that are overlaid on activations are prohibitive for many producers, artists or event organisers.
This results in our street activity being reduced to those who can afford toaccess the process of putting on a show. Of course, we still want and need the massive concerts in the Domain, or opera on the harbour, but wouldn't it be wonderful to have locations across the city that could easily, affordably and quickly be activated by everyone to present culture?
Small community festivals, solo artists, independent companies, youth groups. Places where citizens could gather, share stories and everyone could affordably use publicly owned assets for culture every day.
That's the vision we're putting forward today, led by our champion Kerri Glasscock, CEO and founder of the Sydney Fringe Festival.
Locations where performers and community groups can literally plug in and play – with the lighting, three phase power, public toilets, staging and overarching approvals to make it not just available, but inviting and encouraging for everyday culture.
We are working with cultural leaders from across Greater Sydney, and over the coming months we will release ideas they have championed. The first cab off the rank is this proposal for a plug and play city.
Read the Everyday Culture report, chapter by chapter, as they are published: